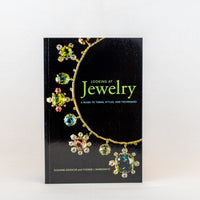 Looking at Jewelry: A Guide to Terms, Styles, and Techniques
Written by co-authors Susanne Gänsicke [Sr. Conservator, Head of Antiquities Conservation at J. Paul Getty Museum] and Yvonne Markowitz [Rita J. Kaplan and Susan B. Kaplan Curator of Jewelry at Museum of Fine Arts, Boston].
 
This book is geared toward readers ranging from jewelry fanatics to casual readers. Providing information on all jewelry topics, including the history of jewelry, materials used, and the different types of jewelry. Color illustrations enhance the easy-to-read text.