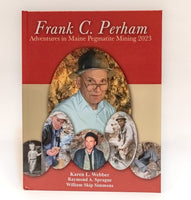 Frank C. Perham, Adventures in Maine Pegmatite Mining 2023-SECOND EDITION
Frank Perham: "undergraduate geologist by training, a miner by avocation and a garage owner by necessity" (his words).
This incredible book details Frank's life and his incredible mining career.  Starting with his career in the military and finishing up with his last discovery of the "Mother Mary Pocket" at the Hayes in Greenwood in 2017 (which was found after the printing of the first edition).  Paired with many photos, reading his stories is like conversing with an old friend. Frank was a big part of many of the major mineral discoveries in the state of Maine and was always willing to share a story or two. 
The Maine mining community lost a legend when Frank passed this year at the age of 88.  He will be missed by all who knew him.